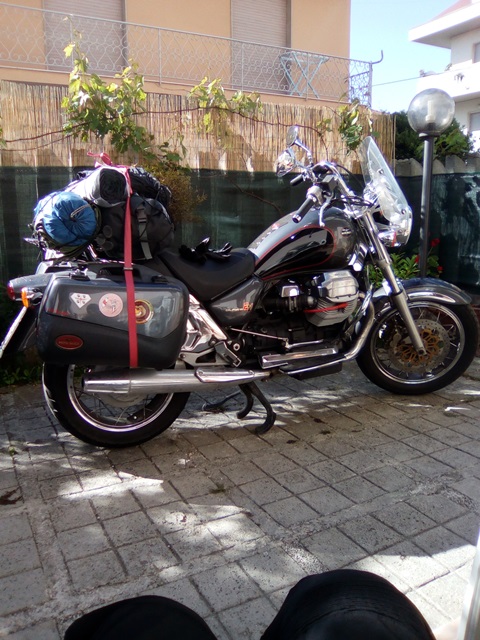 "Un Viaggio non si racconta, ma le emozioni che si vivono spesso non hanno parole"
Rock'n Roll
I pochi giorni che precedono la partenza sono un misto tra lievi depressioni, incertezze, tanta voglia di evadere da una routine stancante è l'emozione di unirsi ad un abbraccio di Amore Cosmico che sicuramente mi solleverà da questo limbo nauseante.
L'incertezza me l'ha tolta con un messaggio un amico chiedendo di venire, forse le mie vibrazioni negative sono giunte a lui e lui di rimando mi ha trasmesso la scintilla….. ma si fanculo tutto e tutti per qualche giorno, ho bisogno di rigenerarmi.
Svolgo subito i miei compiti snocciolando a memoria le cose da portare iniziando dalla tenda-sacco a pelo-picchetti-attrezzatura vaia-qualche ricambio per finire a decidere quante mutande portarmi dietro… che sono comunque troppe.
Avevo già preavvisato l'ufficio anche se ero incerto ma è stato utile per rubare quel giorno in più dedicato a raggiungere l'anello magico che si stava formando in uno dei posti più belli d'Italia, e sorridi pensando che ovunque lei ti porti è comunque il posto più bello che hai visitato. Magia dei viaggi, semplicemente.
Venerdì mattina per un'oretta mi dedico alla routine: sveglia alle 6 e 10, caffè, sigaretta sulla tazza, pettorina-guinzaglio e via per 40 minuti con Morgan a fargli sgranchire le zampe lui le gambe io, mentre rispolvero a mente gli oggetti da prendere.
Rientro verso le 7 e 25 mentre i ragazzi stanno preparando le borse per la scuola, saluti di rito mentre ricordo loro che ci saremo rivisti domenica sera…. a si ricordate scompaio per qualche giorno.
Via, concentrazione e tiro fuori le cose da portarmi dietro e le avvicino alla Caliev, iniziando a studiare come dislocarle per equilibrare i pesi nelle borse laterali. Telo, tenda, materassino, tuta antipioggia e borsa con gli abiti vanno sul porta pacchi e la sella, il resto infilato e inzeppato nelle borse.
Mezz'ora la moto è quasi pronta e vado al rito della vestizione preparando stivali, pantaloni, maglia, calzettoni e prima di tutto altra macchinetta del caffè e secondo rito sulla tazza con sigaretta ripassando le cose caricate e penso di non aver dimenticato niente.
Bene, ci sono, sono pronto.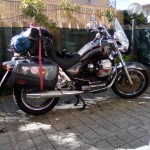 Il mio cane ormai capisce quello che faccio da quello che indosso, appena ha visto che tiravo fuori gli stivali ha smesso di seguirmi come un ombra per casa e si disteso davanti all'armadio facendo finta di sonnecchiare alzando un sopracciglio di tanto in tanto. Mi fa una tenerezza ma non so come portarti dietro saresti un ottima compagnia, prima o poi mi farò una sidecar.
E' ora, tiro giù Caliev dal cavalletto centrale e mi accorgo del giusto equilibrio che l'ho dato distribuendo le cose. La spingo qualche metro indietro è la tiro fuori sulla strada appoggiandola allo stangone laterale con delicatezza. Saluto il cane e la mia ex, chiudo il cancello e con casco, guanti e paracollo mi avvicino alla partenza.
Lei parte come sempre al primo colpo, serbatoio pieno a metà con prima tappa il benzinaio amico e guzzista che sta a Mannopello. Mi muovo ed una strana inquietudine mi accompagna, cosa sia non saprei dirlo, ma quest'ombra mi opprime il petto e cerco di scavare nella memoria per essere certo che non dimentichi qualcosa di importante. Niente non trovo niente ma questa ombra ora non può esistere mentre mi fermo al semaforo che precede l'ingresso all'asse attrezzato. Non capisco eppure dovrei stare tranquillo, non dico felice, ma rilassato; imbocco la rampa di accesso mentre nella testa i corvi si fanno insistenti ed ecco che all'improvviso uno squarcio tra le nubi che ho nel cranio fanno penetrare la positività; in un nano secondo penso alla moto, ai bagagli, alla strada da percorrere, ai chilometri da fare al tempo che impiegherò. Appunto. Una sola parola:
Rock'n Roll
La mano stringe forte la manopola ed il polso inizia ad abbassarsi mentre il motore prende giri ed il suono riempie l'aria ed il casco; si giusto Rock'n Roll ed inizio a cantare ed a battere il piede:
It's been a long time since I Rock and Rolled,
It's been a long time since I did the stroll.
Ooh, let me get it back, let me get it back,
Let me get it back, baby, where I come from.
It's been a long time, been a long time,
Been a long lonely, lonely, lonely, lonely, lonely time.
Yes it has.
It's been a long time since the book of love,
I can't count the tears of a life with no love.
Carry me back, carry me back,
Carry me back, baby, where I come from.
It's been a long time, been a long time,
Been a long lonely, lonely, lonely, lonely, lonely time.
Seems so long since we walked in the moonlight,
Making vows that just can't work right.
Open your arms, opens your arms,
Open your arms, baby, let my love come running in.
It's been a long time, been a long time,
Been a long lonely, lonely, lonely, lonely, lonely time.
L'asfalto scorre liscio, ormai fatta colazione io e lei proseguiamo con animo leggero verso Popoli pensando al giro d'Italia che ieri è arrivato a Roccaraso e sicuramente troverò qualche impedimento…. e diciamocelo, me la son tirata addosso da solo; a Popoli i Carabinieri mi costringono a tornare qualche chilometro indietro per prendere l'autostrada ed uscire a Pratola Peligna da li cerco di ricordare una strada secondaria che mi avrebbe portato a Pettorano sul Gizio superando Sulmona ed evitare probabilmente un caos dantesco – tant'è che mi ci trovo immerso alla grande e nella sventura incontro un gruppetto di moto dirette anche loro al sublime incontro, Bmw, Ducati, Bellagio ed Honda ferme anch'esse dentro Sulmona. Il Tom Tom della Bmw ci porta fuori Sulmona seguendo strade terziarie, la stessa che volevo fare io ma che non ricordavo e ci ritroviamo presto a solcare dinuovo la SS.17 in direzione Roccaraso con ormai il Giro d'Italia alle nostre spalle. Via si sale dai 400 metri di Sulmona ai 1300 del piano delle cinquemiglia dove un bel acquazzone ci ferma ad indossare le mute. Continuiamo insieme fino alle porte di Roccaraso dove ci salutiamo, io proseguo loro si fermeranno per il pranzo giù di li.
Rock'n Roll
Il viaggio in solitaria non mi dispiace, mi permette l'andatura che l'animo suggerisce e le soste che voglio, del resto sono 120.000 km che percorro quasi tutti in solitaria così arrivo ad Isernia è ne approfitto per una breve sosta defaticante, sosta che risulta fortunata, da li a poco una grandinata accompagnata da saette e tuoni spacca l'atmosfera ed un vento improvviso spinge i chicchi di grandine persino sotto la veranda del bar; 15 minuti e tutto torna normale.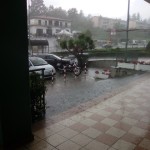 Il cielo plumbeo non rovesciava più pioggia ed il vento faceva gonfiare questa piccola vela a protezione del mio petto, quando arrivato a Castel Pedroso il sole squarciava definitivamente il velo è mi regalava una visione celestiale della Cattedrale che spunta tra il verde collinare; una sola parola, magnifica.
Nel mio immaginario si era creato nel tempo una sorta di nebbia intorno a queste Regioni che sto per attraversare; una incultura geografica mista ad una ignoranza grassa alimentata da troppa televisione e pochi libri, e man mano che attraversavo il Molise e poi la Campania, si aprivano scenari incredibili, con sprazzi di sole ad illuminare boschi verdi e paesetti arroccati di qua e di là ed una statale sgombera che mi permetteva una velocità di crociera costante e rapida. Nel mio piccolo iniziavo a vergognarmi di essere stato così impietoso verso questa terra e Salerno mi ha donato lo schiaffo finale per la sua bellezza.
Mi fermo sul lungo mare dopo aver superato un posto di blocco della Polizia che guardandomi mi lascia passare senza fermarmi, ed ammiro il Tirreno che srotola onde su onde inn un fragore continuo. Mi tolgo la muta da pioggia ormai asciutta, controllo il percorso da fare sul telefono, 35 minuti e sarò arrivato.
Tratto finale tra la pineta vissuta e vari campeggi deserti che si aprono sulla sinistra ed una desolante sporcizia che mi fa chiedere vendetta per conto di questo posto meraviglioso. D'un tratto profumo di benzina carburata e scopro in lontananza una motocicletta. Aumento il ritmo per raggiungere il cavaliere e scopro di essere in compagnia di Padre G con cui concludo il viaggio senza prima esserci persi per qualche chilometro nei dintorni del covo di Nettuno.
Ora sono a casa, ora sono con amici, ora è Rock'n Roll.